Keeping Feet and Ankles Safe in Soccer
Whereas it might not have the same level of fandom as in other areas of the world or popularity of other major sports, soccer is still fairly popular in the U.S.—and especially amongst the 3 million kids who play youth soccer.
Actually, though, the sport's popularity is growing domestically. Among 12- to 17-year-olds, only the NBA is more popular than Major League Soccer (MLS) when it comes to the professional sports leagues.
Accordingly, we are seeing a rise in numbers of children who are playing soccer competitively, both on national and local levels.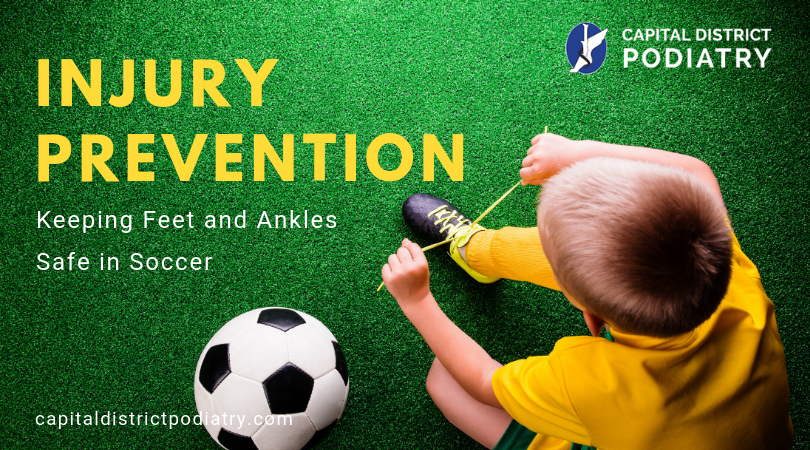 As you might expect, more individuals participating in a sport means there are going to be more injuries sustained during games and practices. And because they play an important role in most physical activities, feet and ankles have a particularly high risk.
Taking things a step further, soccer is a sport where only one member of the team can use his or her hands, so foot and ankle injuries tend to be even more likely for those who play.
That doesn't mean you should keep your kids from soccer! On the contrary, this is a fantastic sport—one that truly promotes and develops skills such as teamwork, persistence, and physical coordination. It can help a child find confidence and positive self-esteem as they become better at the sport and see how hard work is rewarding.
More than that, of course, there are the wide range of physical benefits from participating in a physical activity like this. Given all the running entailed, soccer provides a great cardiovascular workout and can burn an incredible amount of calories. In turn, this helps with weight management—which is so important not only for overall health and wellbeing, but also for keeping excessive amounts of physical pressure off the lower limbs.
At the same time, the fact of the matter is that anyone could potentially get hurt playing any sport, or participating in virtually any physical activity.
With regards to injuries sustained during soccer games and practices, some of the more common ones include bruises, concussions, and injured knee ligaments. Looking more specifically at the feet, ankles, and lower legs, additional common soccer injuries include ankle sprains, Achilles tendinitis, shin splints, and turf toe.
Being prepared to play can help lower the injury risk in soccer, and this includes things like:
Avoid overuse. Over the past couple of decades, there has been an increase in year-round athletic participation for our youth. Some people are quick to attribute this to parents who "push" their children to keep playing all year in order to become as good as possible. Sure, that's certainly a factor, but it's worth keeping in mind that some children are either hyper-competitive themselves, or simply really enjoy the sport and want to play as much as possible (or both, naturally).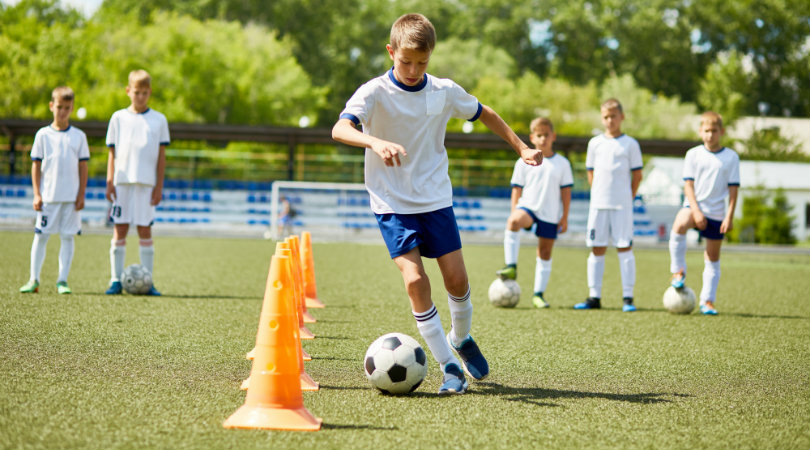 A better approach than this, however, is to give a child a season or two off during the year. Yes, this can be beneficial in avoiding common overuse injuries—including ones in feet and ankles—but it also serves to avoid burnout and perhaps allow your child to develop new interests. For example, you may want to encourage a child to join the swim team (which uses feet in a different way and isn't considered to be a high-impact activity).
As a note, please keep in mind that it's important to limit the number of teams your child is playing for in one season—kids who play on more than one team have heightened risk for overuse injuries.
Maintain fitness levels. If your child isn't receptive to playing a different sport, then you should at least encourage time off during the year. In doing so, it's important to make sure your child is in good physical condition at the start of the next soccer season.
To assist with this, have your child stay active by following a balanced fitness program—preferably one that incorporates stretching, aerobic exercise, and possibly even strength training (depending on your child's age and physical development!). If your child hasn't been staying active prior to the season, you may want to check with the coach to see if they are having the team's activity level raised in a gradual manner through the early part of the season.
Warm up and stretch. No matter if we're talking about your child playing youth soccer or if you participate in an adult rec league, there should always be time taken before a game or practice for warming up and stretching!
Research studies consistently prove that "cold" muscles and connective tissues are more susceptible to injury. Before getting into competition or practice, some light cardio activity for about 5-10 minutes, followed by dynamic stretches, can reduce the risk for injuries in feet, ankles, and lower legs.
Cool down and stretch. A proper warmup and stretching regimen beforehand is important, but a post-activity cooldown should not be neglected! The cooldown is important for removing lactic acid buildup in muscles, and the stretching can relieve muscle soreness and improve flexibility. Whereas pre-activity stretching should be dynamic, this is the time for static stretches.
In addition to reducing your risk for muscle cramps, proper hydration actually may be able to help athletic performance. (At least, it's been found that mild levels of dehydration can hurt your on-field performance.)
Wear proper shoes. We've mentioned this more than once, because it cannot be overstated—activity-appropriate, properly-fitting shoes are important for all physical activities. Soccer is certainly no exception.
With regards to activity-appropriate, soccer shoes should feature molded cleats or ribbed soles for optimal traction and field grip. That said, on a wet field with high grass, shoes with screw-in cleats may be best.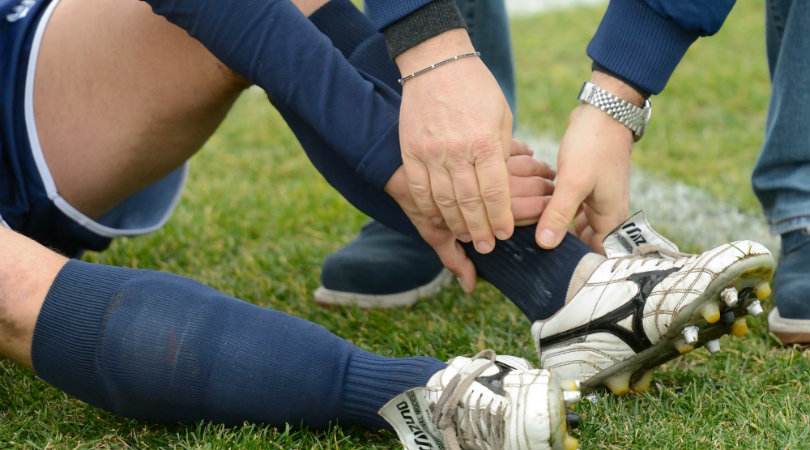 When it comes to injury prevention, it isn't only important to prevent one from happening initially, but also to reduce the risk of recurrence. To this point, an injury should be addressed promptly and receive appropriate care. Coaches and other personnel should be prepared for injuries to happen and know how to at least provide first aid (which can prevent a problem from becoming more severe in nature).
Above and beyond that, it is imperative that a foot or ankle injury be healed completely before resuming athletic participation. We see too many cases of patients who would have had a lot less pain and been able to get back to their favorite activities sooner if they had given their bodies enough time to heal in the first place.
That is true for virtually any injury, but especially in the case of ankles sprains. Since they are quite common, people tend to make the mistake of thinking they aren't a big deal.
The problem with that is this—going back to normal activity levels on a sprained ankle that hasn't healed completely is a major cause of chronic ankle instability. In this condition, there are increased occurrences of sprains in the joint, plus (as the name indicates) it doesn't provide necessary stability.
Remember, always follow doctor's orders when it comes to recovering from a sports injury!
We hope you and your children are able to stay safe while playing soccer or any other favorite sports, and these tips can be a good starting point. But if a foot or ankle is injured, give Capital District Podiatry a call at (518) 273-0053 and we'll be happy to provide the care you need—so you can heal in the shortest amount of time and get back to your soccer matches!